This year, the Imixs Software Solutions GmbH presents the latest major release of the open source workflow engine Imixs-Workflow 4.0.0 at the IT & Business Trade Fair.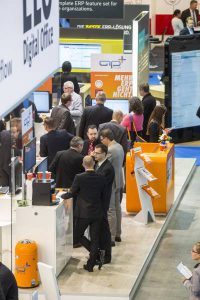 Imixs-workflow is a so called "human-centric workflow engine". Human-centric BPM means to support human skills and activities by a task orientated workflow-engine. The Imixs-Workflow project provides a powerful framework for the development of human-centric business applications. Imixs-Workflow can control, monitor and optimize any kind of business process between employees, customers and suppliers. This topic is currently also well known under the headline "Social Collaboration". In contrast to a simple ad-hoc workflow approach, Imixs-Workflow allows the development of professional business applications and the integration of business process management into existing IT architectures. Imixs-Workflow also follows the approach of a microservice architecture and can for example be run easily in a docking container.
The new release includes significant improvements in performance and stability. Which a new database schema and the integration of the Lucene-search technology, the Imixs-Workflow engine is now much faster and can be easily integrated in custom software projects. With the Eclipse-based modelling tool 'Imixs-BPMN' a business process can be developed according to a model-driven software development approach. Changes in the business logic or in the business process itself can be deployed at run time. This leads to a significant reduction of development cycles in an agile software development environment.
For software companies and larger projects, Imixs-Workflow shows a huge potential for improvements in the area of agility and cost reduction. With the support for BPMN 2.0, business logic can be changed easily and without costly re-factoring. The Imixs Software Solutions GmbH supports companies in the development and implementation of workflow solutions and offers also training and individual workshops.
The new version is expected to be released finally in September 2016. The open source project is available on GitHub, and provides a lot of examples and modules. Visitors of the IT & Business Trade Fair can inform themselves between Oct. 04.-06. in Stuttgart. Discussions about Imixs-Workflow can be made together with workflow experts at booth 1G33.2.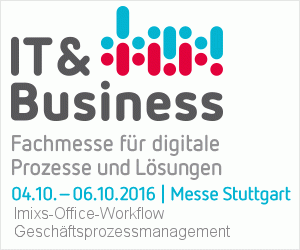 IT & Business, DMS EXPO and CRM-Expo are merging to form a single event: the new IT & Business. Under one brand and under the roof of the largest hall at the Stuttgart Trade Fair, exhibitors will show how companies can work more efficiently, simply, safely and economically by means of optimising their operational processes.