The latest version 4.5.3 of our Business Process Management suite Imixs-Office-Workflow now includes an improved AI module. The system can import documents and automatically recognize and assign their content. For example, incoming invoices and delivery notes can be processed automatically in background. This significantly shortens throughput times in document based business workflows.
The open source module Imixs-ML is based on a machine learning approach in combination with pattern recognition. Good results are achieved even with small amounts of data. In addition, Imixs-Office-Workflow includes a self-learning AI system. This means that the system permanently improves its ability to recognize content from new documents in the background without having to import big training data.
After an automated document import – e.g. from an e-mail mailbox or an Office scanner – the user can check the data and correct it where necessary.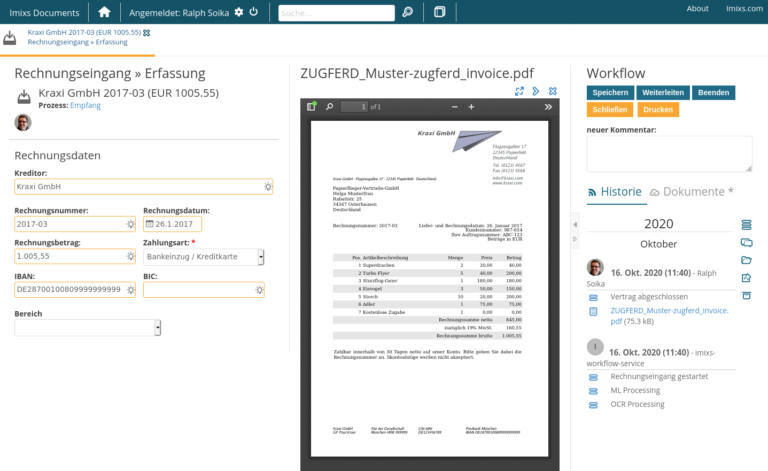 Model Your Business Process Quick & Easily
With the Imixs Workflow Technology, all kinds of business processes can be easily modelled with BPMN 2.0. Even complex approval processes like the 4-eyes principle are supported by the Imixs Workflow engine.
Due to its openness Imixs-Office-Workflow supports many open interfaces to various IT solutions and server systems. Thus, integration into an existing enterprise IT can be done very easily.
Through our consulting concept, we help companies to digitize their business processes. Get in touch with us and find out more!